DISC Integrity
Risk Assessments
Integrity Risk Analysis is a special type of personality test designed to evaluate the candidates' credibility and honesty at the job application stage. DISC Integrity was born with the emergence of the need to evaluate candidates and employees' attitudes towards workplace rules and ethical norms.

In cases where Integrity Risk Analysis is not applied, the recruitment process may lose its efficiency as behaviors that affect productivity such as theft, bribery, violence, disciplinary problems, absenteism cannot be detected.
Recruitment - Selection and Placement
Current staff assessment
Turkish - English
166 Questions
30 Minutes
DETAILED INFO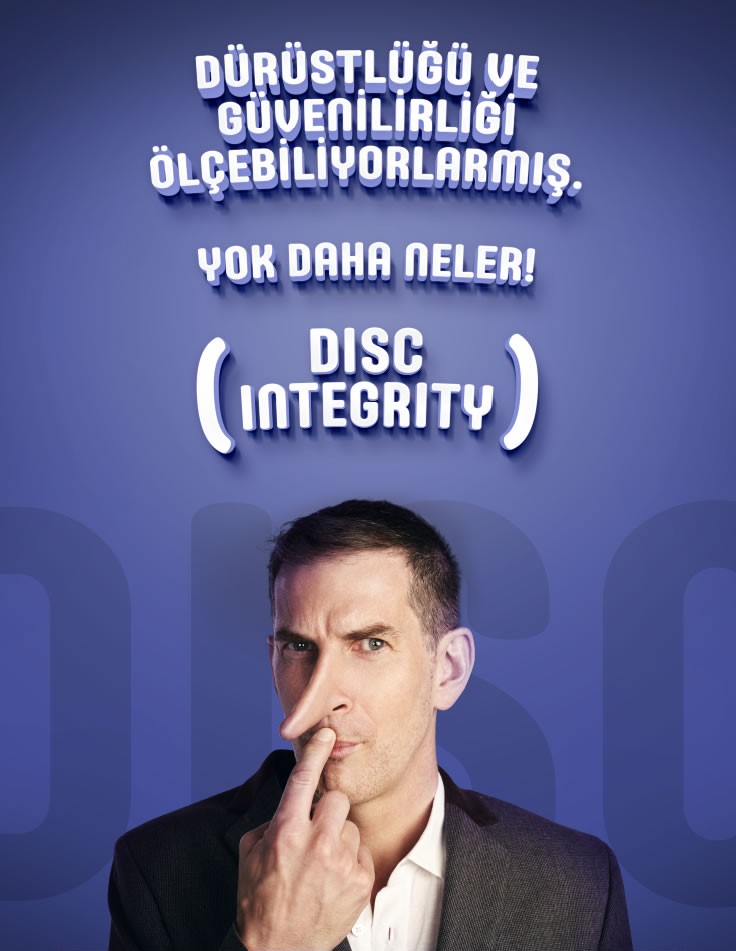 Why DISC Integrity?
DISC Integrity, assists the human resources during the candidate's recruitment process and analyzes the risky situations that may occur before the candidate starts to work.
Recruitment; it is a laborious process for both the candidate and the institution. Although the candidate's abilities can be revealed in interviews and meetings, it is possible with DISC Integrity Risk Analysis to see their personality and their moral compass that the candidate can reflect on their work.
Unlike standard personality tests, Integrity Risk Analysis also measures responsibility and compliance with company norms. It must be involved in the evaluation process to measure the overall business performance. Disc Integrity adds significant efficiency to the selection process, especially when used with DISC Cognitive tests.
Obtain a special quote for your institution click here
PREVENTING FINANCIAL LOSSES
Theft of valuable goods or sensitive information is quite annoying for organizational functioning. Financial losses are prevented with Integrity Risk Analysis.
RECRUITMENT – SELECTION – PLACEMENT
It is used to measure whether candidates have the potential to succeed in jobs where they require a high level of integrity and reliability. It is applied to a wide range of application groups as a screening criterion.
TENDENCY OF HONESTY and RELIABLITY
It is designed to directly measure attitudes towards dishonest behavior. Integrity is divided from other personality based tests because this test do not hide it's purpose.
CURRENT EMPLOYEE ANALYSIS
It enables determination of candidates who may have exemplary behavior at the workplace. It does not eliminate fraud or theft in the workplace, but research says individuals who score poorly from these tests tend to be less suitable and less productive.
DETERMINING OF RISKY AREAS
It often includes questions asking directly about the candidate's involvement in illegal behavior or misconduct (eg theft, illegal drug use). This transparency reveals the correct answer.
VALIDITY
Validity - Integrity tests are known to be a valid predictor of overall business performance, as well as many reverse productivity behaviors such as illegal drug use and theft. Using it with DISC Cognitive tests significantly increases the prediction of overall job performance.